The past few years have seen a trend for both Italian and foreign couples from all over the world to choose Piedmont as the venue for their wedding.
It is a land of a thousand facets, a thousand enchanted places and a thousand surprises. There are few Italian regions that boast such a climate, such a welcome and such a variety of food and wine traditions as Piedmont does.
When we think of Piedmont, what immediately comes to mind are the vineyards of the Langhe, Roero and Monferrat areas – the gently rolling hills where the villas nestle, the culinary tradition of excellence. But we also call to mind glimpses of contemporary Turin, interspersed with baroque and historic monuments – a mix of urban landscapes from different eras, coexisting harmoniously and making this city unique and unforgettable.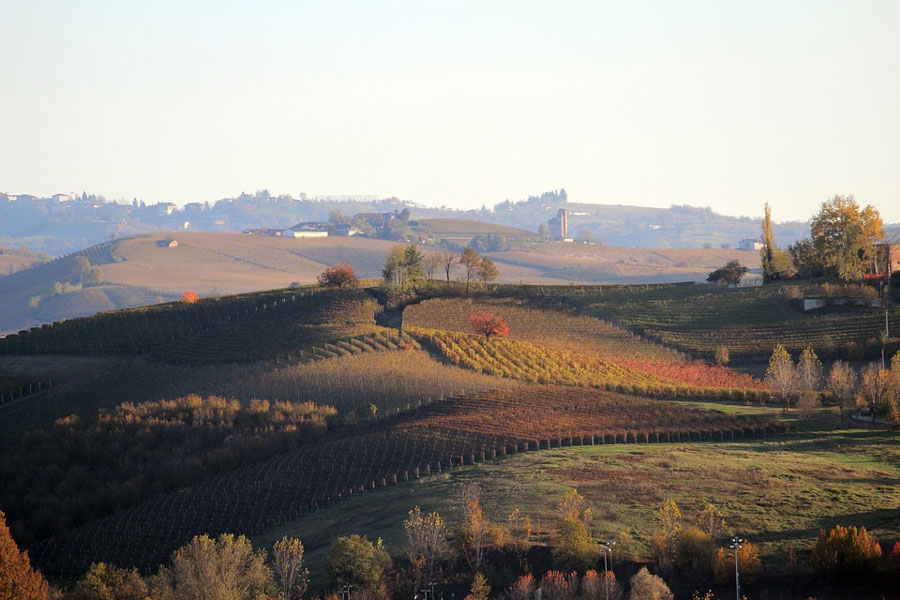 Suggested wedding venues in Turin and Piedmont
The region of the Savoys offers endless opportunities for those who decide to get married here – to celebrate their special day in a place that will speak volumes about them. Whether they are looking for a venue that is intimate, exclusive, luxurious, or a very elegant but romantic one, this place will captivate and delight brides and grooms as well as their guests.
Wedding venues here are many and varied. Couples who choose this region will find an incredible array of choice, leaving them with emotions, impressions and culture that will stay with them forever. This is why I wanted to select wedding venues that reflect me and represent me, in that they are distinct and yet complementary.
In my work, it is essential to have as accurate and complete an overall vision as possible. Starting with inspirational ideas and ending up with choosing venues that can offer just what the bride and groom are looking for. Working with them in accordance with their wishes and needs, creating a harmonious design that is truly close to what they are imagining.
But not all the couples are the same! Here are some inspirational ideas to help them choose the perfect wedding venue.
Casa Scaparone
With intimate, refined style, it preserves the traditional spirit of the farmhouses of the past. Nestling in the green hills, just a 10 minute drive from Alba, this venue will entrance you with all the charm of an old restored villa, every nook and cranny revealing the owner Alessandra's attention to detail. The wine and the produce of the land are organic, the grains used for pasta and bread-making are ancient ones. The dishes they serve belong to the Piedmontese tradition, with menus specially designed to include even vegetarian and vegan options. This is where silence and the placidity of nature reign, and where time seems to have stood still, allowing you to slowly enjoy the good life in the atmosphere of an ancient village.
Casa Scaparone
Strada Scaparoni, 45,
12051 Alba CN
Cascina Ranverso
This old farmhouse has been restored and modernised in line with an architectural style inspired by the contemporary.  It's a wedding venue that will appeal to those who seek tradition but do not wish to give up the comfort of modernity. It is in the lower Susa Valley that you will find this jewel, where the watchword is togetherness:  living, sharing, savouring and celebrating together. Exposed bricks, iron, wide windows have been grafted onto the original eighteenth-century style, creating an overall country chic that manages to keep the farmhouse's identity intact, but enriching it with technologically advanced solutions. The produce is all organic, grown according to the rules of biodynamic agriculture: fruit and vegetables, wine, honey, bread, milk, cheese, yogurt and ice cream. Territory, culture, elegance and environmental protection constitute the ingredients of this successful recipe.
Cascina Ranverso
Strada degli Abay 36,
10090 Buttigliera Alta TO
Palazzo Saluzzo Paesana
In Turin, in the historic setting of the Centre, a venue suitable for a courtly, baroque wedding opens its ancient doors and accompanies you past domed vaults and marble staircases. One of the most shining examples of Piedmontese Baroque, as described by Gloria Guerinoni, perfect for those who wish to hold a wedding reception surrounded by the history and artistic richness of this place: the mirrors, inlaid corners, exquisitely baroque details and large rooms create a scene with elegant, luxurious, aristocratic style. It's suitable for those who choose to celebrate their special day in style, with the convenience of not having to leave the city.
Palazzo Saluzzo Paesana
Via della Consolata, 1bis
Torino
Villa Simeom
Built at the end of the eighteenth century, this historic villa was the hunting lodge and summer residence of the Simeom family. Those who choose this place as the venue for their wedding are seeking elegance, intimacy, and a cosy atmosphere, as will those who love a truly magical place, rich in charm and with a strong personality. The ballroom, at the centre of the Villa, entirely frescoed, with its 12 metre high vaulted ceiling, will bring together the bride and groom and their guests in an unparalleled setting. With over seventeen hundred acres of parkland and six hundred square metres of period rooms, a wedding day here becomes a timeless image, a snapshot of elegance and history.
Villa Simeom
Corso Vittorio Emanuele, 12
Andezeno (TO)
Write to me at  info@weddingmia.com for advice, help in making your choice or to discover other marvellous wedding venues in Turin and Piedmont.